Happy Holidays Medium Deluxe Wood Cookie Gift Box
product description

Product Description
Bake up a gift box with your own unique messaging! Your recipient will certainly be impressed with these 20 gourmet cookies packed into a specialty etched keepsake gift box just for them! Along with the undeniably delicious flavors of Chocolate Chip, Confetti Sugar, Berry Shortbread, Chocolate Crinkle, and even Peanut Butter & Jelly cookies, this beautiful wooden gift box features custom etching on the lid for them to keep and admire after every morsel has been devoured. After your recipient is floored by the distinctive style of your first-class gift and unforgettable flavors of Noms cookies, they'll have a memento to commemortate for years to come!
Minimum Order Quantity: No Minimum Qty
Individual units may be shipped to multiple addresses and recipients or at your requested times through our on-demand program.
Shelf Life: 10 days from shipping.
Available Flavors:
Berry Shortbread, Chocolate Chip, Confetti Sugar, Chocolate Crinkle, and Peanut Butter & Jelly
Size & Dimensions: 10'' x 10'' x 6''
Includes
Certifications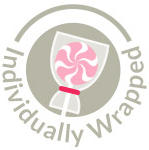 Greeting Message
This product includes a greeting note attached inside the package.
You will be able to add a custom greeting message at checkout.
Additional Greeting Cards Related Information
Handwritten Card
A card written by pen and ink will stand out from the rest and will let your recipients know they are valued.

Costs
$6.95 per card with minimum of 24
$4.95 per card for 100 cards and up

To make an order contact us.

Shipping & Processing
Processing, Production & Shipping Times
Customized products require between 5-7 business days, depending on quantity.

The process includes:


Design Approval
Prior to production, in order to ensure the design fits your expectation, within 48 hours a virtual mock-up/ final proof will be sent out for your approval.


Production
Ready to ship within 5-7 business days after design approval. Rush production may be available upon request.


Arrival Date
Arrival date is calculated after production time. Check Earliest Delivery Date to get estimated arrival dates by delivery method & zip code. Expedited shipping options are available during checkout.
Additional Shipping Related Information
International shipping
This product cannot be shipped internationally.
Multiple Address Shipping
Sending your order to multiple addresses is made easy, whether it's 2 or 2,000 locations, residential or business. Our designated tool makes it fast and easy.
See how
or chat with us.
This product requires a minimum order quantity commitment. Individual units may be shipped to multiple addresses and recipients.
Pre-scheduled Delivery
Our gifting platform allows you to organize gifting programs and campaigns in advance, and schedule deliveries for any time.
Request a demo
to see how it works.
On-demand Gifting Program
We can manage your branded items inventory for you to support any on-demand gifting program.
This product requires a minimum order quantity commitment. Our gifting platform allows orders to be shipped on-demand, as needed based on rules or manual selection.
To learn more see our
Professional Services
or chat with us.
Use Your Own Shipping Account
You may use your own shipping account by providing your account number in Add Special Requests step at the Customization process.
Hot Weather Shipping
During hot-weather months (May-September) or when shipping to a zip code where the outside temperature may exceed 80°, we use coolers to keep chocolate and candy gifts as safe and fresh as possible. Depending on the order, we may use cooling packs, food-grade ice packs, or both. Additional fees apply and will be finalized after order approval.